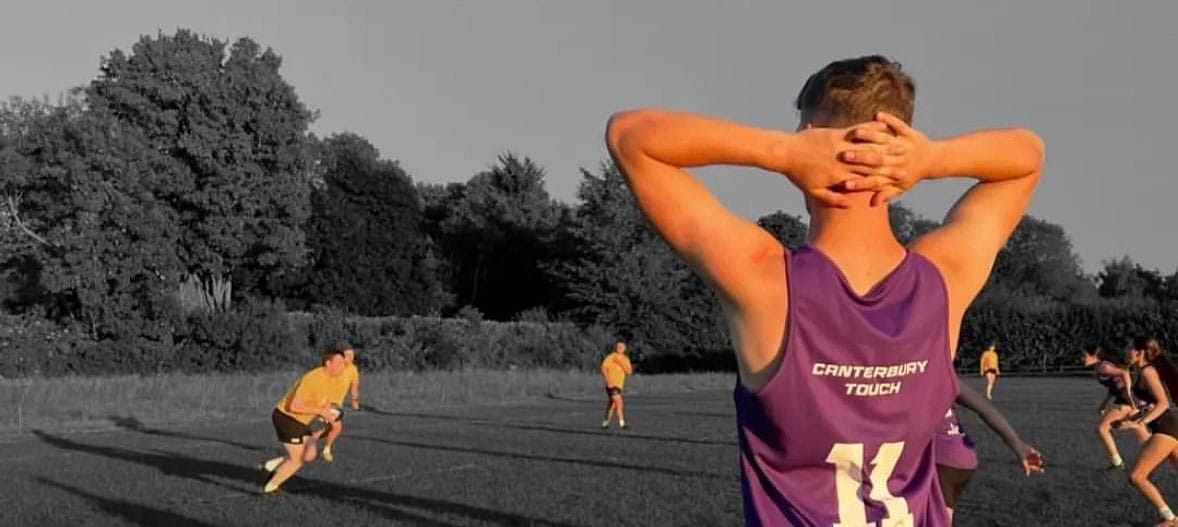 Touch is a fast-paced minimal contact version of rugby with no tackling and no kicking. The focus is on handling skills and creating and exploiting space. Touch is played by teams of 6 people on the field with unlimited substitutions. It's great for fitness and the injury risk is minimal compared to other forms of rugby. See the England Touch website for the rules.
In Canterbury, we play both socially and competitively. All of our weekly sessions are mixed gender with male and female players from teens to over-60s playing together.
Canterbury is the leading touch club in Kent and one of the strongest in the South East. We compete in National Touch Series events across the country. We are also one of the top clubs in England for youth development.
Many Canterbury players have represented England – in men's, women's, and mixed teams at all levels from under 15s to over-50s – including at European Championships and Touch World Cups.
All Canterbury RFC members are welcome at our weekly sessions and non-members are encouraged to come along and try two sessions for free. No previous rugby experience is required. Adult sessions are open to male and female players aged 14 or over.
Session days and times are subject to change so please check our social media.
---
The miles&barr Touch Rugby Summer League is underway and games take place every Wednesday at Canterbury Rugby Club until 19th July.
Mixed-gender 6-a-side teams with unlimited subs. One 40-minute game per team each week at 6.30 pm, 7.30 pm, or 8.20 pm.
League Tables – Week 7
PREMIERSHIP
| | | | |
| --- | --- | --- | --- |
| 1 | Burgess Hodgson | 25 | +49 |
| 2 | Human Touch | 25 | +43 |
| 3 | Don't Give a Ruck | 19 | +17 |
| 4 | He Touched me Here… | 19 | -4 |
| 5 | Exiles | 16 | -5 |
| 6 |  touched for the Very 1st… | 16 | -6 |
| 7 | Hawaii Try O | 13 | -13 |
| 8 | Faversham Kraken | 7 | -81 |
---
CHAMPIONSHIP
| | | | |
| --- | --- | --- | --- |
| 1 | Wombles | 28 | +29 |
| 2 | Invicta Touch | 25 | +34 |
| 3 | Giant Stans | 20 | +4 |
| 4 | Epic Failures | 19 | +8 |
| 5 | Fancy a Quickie | 14 |  =8 |
| 6 | Horndogs | 13 | 0 |
| 7 | Touching Turkeys | 13 | -7 |
| 8 | The Regulars | 7 | -60 |
---
Training Times
Adults (ages 14 - 60+) - Every Thursday 7.30pm - 9.00pm
Juniors (ages 5-14) - Fridays (during school term time only) 5.15pm - 6.15pm
Training Location
Adults - The Langton Grammar School for Boys, CT4 7AS
Juniors - Canterbury RFC, Marine Travel Ground, CT4 7DZ