News
Tributes to Gordon Stewart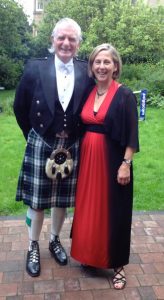 It is with great sadness that the club has learned of the death of Gordon Stewart, a long time club member, friend, supporter and highly respected youth coach. Two rugby men who knew him well, former chairman Steve Uglow and former Head of Rugby Andy Pratt, pay tribute to a wonderful character and proud Scot who will be remembered by so many.
Everyone at Canterbury RFC will be sad to hear of the death of Gordon Stewart. He had moved to Canterbury, working in computers. As under-8 coach, I first encountered him at Elthamians, screaming passionately in a broad and unintelligible Scots accent at a small red-headed bundle of energy that I had put on the wing. That winger was Gordon's son Eoin, destined to become one of Canterbury's most talented scrum halves.
For many years Gordon coached that age group at mini and youth rugby level. It was a talented bunch that had considerable success at Colts level. But many of the players will remember best the annual tours where the sheer fun and effervescence that Gordon brought with everything he did made these events the stuff of legend. He was unstoppable – at Reims in 1983, he (as a non-French speaker) spent 30 minutes explaining to our French hosts (non-English speakers) the nature of the Sun Newspaper. And all in his Dundonian accent.
His support of Eoin's rugby career was unwavering and his contribution to the club's junior rugby through that decade was immense – always willing to take on tasks and inevitably making committee meetings bearable by his refusal to take anything too seriously. More recently he would be found on the mini rugby touchline again, now cheering on his grandchildren.
The loss of Eoin's mother, Muriel, was a huge blow to Gordon and was felt by all who knew her, but he has had many happy years with Micheline Weigh – who has also been a stalwart club servant, along with her sons, Dan and Jerome. Whether there were disputes as to whether Eoin or Dan was the better scrum half is not known. What is known is that everyone who knew Gordon will feel bereft. The club sends its heartfelt condolences to Micheline, to Gary, Ailsa and Eoin and to Dan and Jerome.
Steve Uglow
---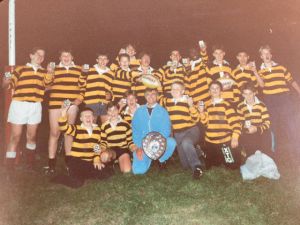 Gordon Stewart's immense contribution to Youth Rugby at Canterbury is reflected by Andy Pratt, former captain, Head Coach ad Head of Rugby, whose own rugby career was guided by Gordon from a young age.
Like so many mums and dads who give up their time to coach at weekends, Gordon had a profound impact on the lives of the young players he led. I was lucky enough to be one of them. He knew his rugby but what he did so well was much more than coaching how to tackle or pass. Ask any of his former players about him and I guarantee they will smile and be able to recount several memories of those times. It probably won't be a memory on the pitch either.
He made rugby fun. He made Sunday mornings the highlight of your week. Gordon had no time for rugby's stuffier traditions, but he cherished its values. We didn't wear blazers or ties, but we had such a laugh whether we were training, playing or on the several tours we went on. Most of his players continued playing into senior rugby thanks to the love of rugby and the club that he fostered. For me, that's the true measure of his success as a youth coach but he wanted more.
The All Blacks have a saying "Better people make better All Blacks". Gordon was determined to develop good young people through rugby, regardless of how good at the sport they were. Back in March I discovered an old festival certificate from those times and sent him a photo of it. We reminisced over text and he ended the chat with:
I'm proud of the fact that ALL of you have turned out to be good sons, fathers and husbands. I loved every second with all of you and you'll be in my heart forever
He'll be missed greatly but the memories and laughter will live on with so many of the lads and lasses he coached.
Thanks Gordon, we owe you so much.
Andy Pratt